The family company with ideas
As a leading provider of design and functional services for three-dimensional advertising installations, we are the partners of trade, industry and service providers. We design, develop and build exhibition stands, mobile and stationary counter systems, as well as promotional displays. We guarantee our clients 45 years of experience, sophisticated technology, constant innovation and exemplary full service: Your partner has thought of everything!
ISINGERMERZ. The guiding principles.
We get better every day, even with small steps.
We are a "Sustainable Company" and promise to remain sustainable.
ISINGERMERZ. The Sustainable Company.
Sustainability as a recognised model of social responsibility has long established itself worldwide and is increasingly becoming the basis for entrepreneurial action. We have also operated and worked in this sense from the very beginning and live in substance and in our objective as a multi-certified "Sustainable Company".
ISINGERMERZ. The Team.
A mix of ages and careful ongoing development of the team characterise the stability of the company and attest to the trusting and very direct personal approach. The life plans of the young men and women change. New colleagues arrive, pioneers sometimes disembark and often come back.
65
employees
from over 20 professions
10500
production and storage area
3820
exhibition stands built

Certified as a sustainable company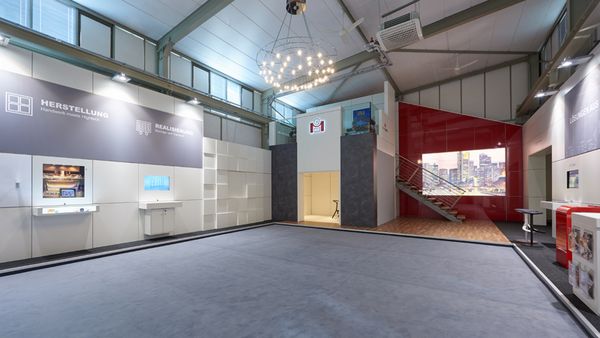 ISINGERMERZ. The display window.
The 300 sqm showroom shows our visitors trends and innovations in exhibition construction and three-dimensional presentations. Constructive insights, material which can be touched and sophisticated lighting effects show how it's done and create an appetite for creative courage. Take a look inside and experience the striking dimension of your next exhibit in advance.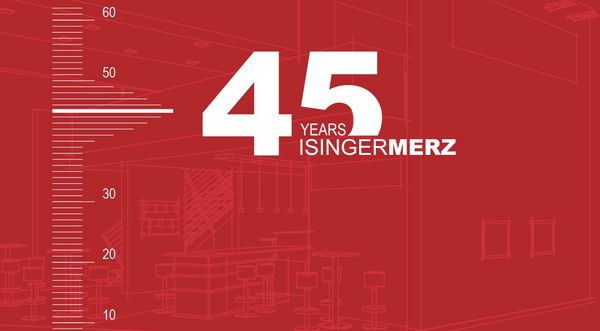 ISINGERMERZ. The history.
From the vision of both Wiesbadeners Bernd Isinger and Norbert Merz over 45 years came one of the leading exhibition construction companies in Germany. Changing zeitgeist and industry rotations accompanied the continuous development which generated, as a high point, a revolutionary patented exhibition construction system – proof of the founders' courage and joy of creation.